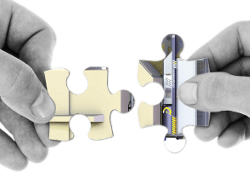 Bin-tipper integration: expertise that makes all the difference
One of the most common use-cases for Simpro bin-tippers is loading product into another machine or process. The next stage might be a compactor, composter, crusher, mixer, sorter, or something else; it might comply with any number of standards, or none.
Yet it needs to be integrated seamlessly with our lifting equipment – not just physically – but also in terms of control and power systems. This often throws up some interesting challenges.
Fortunately, over the decades Simpro has accumulated an industry-leading knowledge of industrial controls and process automation. When it comes to fast, reliable, seamless machinery integration, here are four key areas where that expertise makes all the difference:
1. Control systems
Simpro bin-tippers are available with a safety-rated digital control module from Rockwell Automation – a leading provider of industrial control systems. Although the primary function of this controller is to meet Category 3 or 4 safety requirements, it can also be programmed with custom operational logic, allowing fast control-level integration with other machinery.
A common example is the integration of Emergency Stop functionality, so all ancillary machines are stopped if the Emergency Stop on the bin-tipper is pressed, and vice versa. Another example is a 'Tipper in Position' sensor, which disables all associated plant unless the bin-tipper is correctly positioned and communicating normally.
Simpro can even remotely upgrade and modify the control software after the machine is installed, with just an internet-connected laptop and a USB cable!
2. Physical integration
All Simpro machines are designed in SolidWorks – the cutting-edge 3D CAD software, used by pioneering engineering firms all over the world. Because of this common design environment, we can easily share design data to verify plant layout, workflow and physical integration before any steel is cut.
Additionally, using the built-in SolidWorks physics engine we can run simulations to identify hidden issues that might emerge in operation, and correct them at the design stage.
3. Power supply
Simpro bin-tippers are available with a remarkable range of power sources – 1-phase mains, 3-phase mains, battery, solar or compressed-air. This lets us offer power commonality with other industrial plant, minimising integration complexity, cost and electrical hazards.
The most common power supply found in industrial settings is 3-phase mains, which is also the most cost-effective and reliable power source for Simpro lifters.
4. Flexible technology
Another factor that sets Simpro apart is sheer flexibility. Our proprietary lifting technology can contribute to a wide range of industrial processes, and every day our customers surprise us with just how wide that range is – whether it be a rhinoceros-dung recycler, an airline-blanket washing system, or a salted-peanut production line.
Simpro machines fit right into all these complicated, custom workflows because they were designed from the start to be versatile.
In conclusion
Unlike many suppliers of materials handling equipment, Simpro possesses both the willingness and the technical capacity to adapt our products, to deliver a seamless solution. Whatever innovative idea it is you have in mind – if a lifting or tipping component is required, just reach out to us.
You'll be surprised how easy it is when you're working with experts.