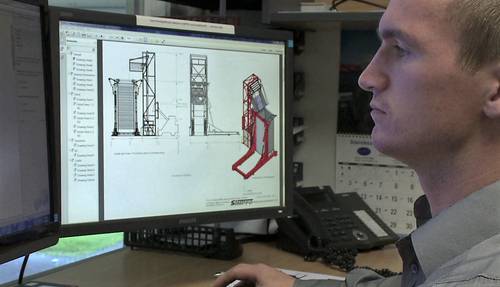 The Digital Revolution
Simpro's first machines were designed on paper and built by hand. We didn't have a fax machine, let alone a computer. How things have changed.
Today, our products are designed in SolidWorks – the cutting-edge CAD package from Dassault Systèmes. With SolidWorks, we can design a new machine, test, tweak and finalise it without cutting a single sheet of steel. Physics simulations ensure it will work just as expected, and ray-tracing creates photo-realistic images for the marketing department. (Thanks guys :))
For our customers, not only does this mean better products, it means we can quickly customise them to suit any requirement. Last week, a mining company in Western Australia requested a Multi-Tip with a special 'coal-scuttle' attachment for tipping dry solids. And here it is:
Some of the other remarkable custom machines our engineers have created in recent months can be seen in this JPG poster.
With CAD design, even the manufacturing process is becoming more digital. Much of the steel for our machines is cut by computer-controlled lasers, guided by CAD files from SolidWorks. Our 3D printer allows us to create prototypes of small new parts in minutes – with a click of the mouse.
Simpro is a nimble company, but being based in New Zealand we cannot access the economies of scale we might enjoy in, say, China or the United States.
But for companies like us all over the world, the digital revolution is levelling the playing field.