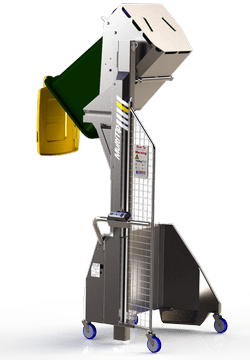 Seven industrial problems solved by Simpro bin tippers
Lifting and tipping bins has become one of the most common tasks in the modern workplace – and machines like the Dumpmaster are the best way to do it. Here's a list of seven industrial problems solved by Simpro bin lifters.
1. Chemical Plant: tipping toxic, acidic, corrosive and explosive liquids
Designing machinery for chemical processing presents unusual challenges – the industry is highly regulated, and sometimes works with liquids that are at once toxic, acidic, corrosive, and highly flammable. However, not only are Simpro tippers available in corrosion-proof, acid-resistant 304 stainless steel, they can be fitted with splash-shields to guarantee operator safety. And to avoid lighting any unwanted fires, compressed-air power is available too – complete with Category-3 safety rating!
2. School: empty wheelie bins into skip/dumpster
For the caretaker or janitor, a bin tipper turns what was once a back-breaking task into a pleasant 30-second breather. School inspectors are impressed, too.
3. Cereal Manufacturer: tip grain into a mixer
Cereal manufacturers must often lift bins of grain weighing hundreds of kilograms, and empty the product into mixers or other machinery. This is impossible to do by hand, and foreign objects such as clothing/tools/sweat/body parts must be kept well out of the way. Dozens of manufacturers have solved this problem with stainless steel bin tippers from Simpro.
4. Construction Site: tip mobile builders' bins into skip/dumpster
Managing rubbish on construction sites is a tricky business. There's a lot of it, usually generated in widely dispersed locations, and if not properly managed it quickly becomes an unsightly hazard. Many construction companies are solving this problem with wheelie bins (trash cans in America), which builders can keep close at hand around the site. When full, in just a couple of minutes these can be wheeled to the main skip (dumpster), and emptied with a Simpro tipper. The site stays squeaky clean.
5. Hospital: safely handle medical waste
Medical waste can be extremely hazardous and must be treated with caution, whether it is being emptied into an incinerator, a compactor or a skip. A Simpro bin tipper fitted with splash-shields and easy-clean Pet-G guarding provides the perfect solution.
6. Abattoir: empty meat carts into mincer
Meat processing equipment, such as mincers, typically features a vertical entry chute located between one and four metres above ground level. This is sub-optimal from an ergonomics and productivity point of view, as meat is usually moved about the plant at ground level in EuroBins. However, the problem is easily solved with a EuroBin tipper from Simpro.
7. Recycling Plant: load material into compactor
Compactors are used throughout the waste and recycling industry. Some have primitive built-in lifting devices, others must be loaded by forklifts, trucks, or even by hand. Increasingly, the industry is employing specialised bin tippers from Simpro, which easily integrate with compactors and deliver huge increases in productivity and safety.
Of course, Simpro products are used in many others ways as well – ways we never imagined when we released the world's first mobile bin tipper three decades ago. We have since supplied thousands of machines, to companies in every imaginable industry. If your staff are still lifting and tipping by hand, contact Simpro today.