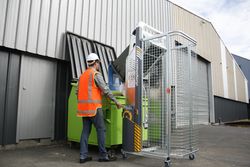 Typical Skip Bin Sizes
Many Simpro customers are unsure which type of bin tipper will work with their skip bin or dumpster. This table provides a handy guide to common bin dimensions, and which bin tippers are suitable for each size.
If in doubt, it is always best to use a tape measure to determine the height of your bin.
Typical Skip Bin and Dumpster Sizes - Imperial (United Kingdom, United States, Canada)
Bin Name
Scale
Capacity
Length
Width
Height
Suitable Bin Tipper (SKU)
2-yard Skip
2 cubic yards
5ft
4ft
3ft
EMT1500/MT1200/DM1200
3-yard Skip
3 cubic yards
6ft
4ft
3ft
EMT1500/MT1200/DM1200
4-yard Skip
4 cubic yards
7ft
5ft
3ft
EMT1500/MT1200/DM1200
5-yard Skip
5 cubic yards
7.5ft
5ft
3.5ft
EMT1500/MT1200/DM1200
6-yard Skip
6 cubic yards
10ft
5ft
4ft
EMT1500/MT1600/DM1500
8-yard Skip
8 cubic yards
12ft
6ft
4.5ft
EMT1500/MT1600/DM1500
10-yard Skip
10 cubic yards
12ft
6ft
6ft
MT1800/DM1800
12-yard Skip
12 cubic yards
13ft
6ft
6.5ft
DM2100
14-yard Skip
14 cubic yards
13ft
6.5ft
6.5ft
DM2100
16-yard Skip
16 cubic yards
13.5ft
6.5ft
6.5ft
DM2100
18-yard Skip
18 cubic yards
13.5ft
6.5ft
7ft
DM2100/DM2400
20-yard Skip
20 cubic yards
20ft
8ft
4ft
EMT1500/MT1600/DM1500
30-yard Skip
30 cubic yards
20ft
8ft
6.5ft
DM2100
40-yard Skip
40 cubic yards
20ft
8ft
8.5ft
DM2700