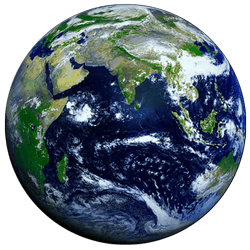 Reliability Matters
It matters to us at Simpro anyway. Here's why.
Underneath this paragraph is a picture of a typical solid waste processing facility. It is equipped with a Dumpmaster hydraulic bin tipper from Simpro Handling Equipment, and provides a very important service to the communities nearby.
But there is more to the story. If we zoom out a little, we see that this facility is on an island. The island is called Vandhoo. It has no roads, airstrip or even port worth the name.
Vandhoo is part of Raa Atoll, which is in the Maldives. There are 1,200 islands in the Maldives, and none stands above two metres high.
As you can see, Vandhoo is quite far away from where you are. It is, in fact, quite far away from anywhere.
The Dumpmaster bin tipper on Vandhoo was manufactured 11,484 kilometres (7,136 miles) away in Auckland. If it should break down, we can't just pop over there and fix it. And there are many Simpro machines in suchlike scattered corners of the globe. They are used by aid agencies, development organisations and governments to manage waste streams in some of the most isolated places on earth.
There is a good reason for this. When modern waste infrastructure is being installed in a remote community, engineering and technical support are usually very far away, and very expensive. And the local workshop might look like this:
In these places, it is better that machinery does not break down at all; and if it does, it must be easy to fix. Simpro products are often used in places like Vandhoo because over our thirty years of manufacturing we have learned the utmost importance of reliability and simplicity. Sometimes we learned the hard way, but we learned. That's why our customers keep coming back to us from every corner of the globe.
And don't just take our word for it!
I'm a maintenance engineer, I service balers and compactors, bin lifts etc and have serviced quite a few pieces of Simpro kit, and always admired the quality, robustness and simple operation.

Fantastic piece of kit, Simpro are a quality item!

Stephen Holbrook - Baler & Compactor Services - Belfast, Northern Ireland