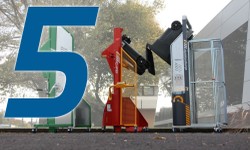 The 5 things that make Simpro bin tippers different
Simpro may have invented the standalone bin tipper back in 1990, but we're not the only company making machinery for this particular niche.
That said, there are five attributes found in Simpro bin tippers that none of our competitors have ever quite managed to emulate. Here they are.
1. Stability
Every single Simpro bin tipper uses a variation of the bin-tipping system we developed back in 1990 for the original Dumpmaster. This features an arrangement of rollers, sliding plates and geometric guide tracks, which lift the bin vertically, then roll it gently upside-down over the lip of the destination receptacle.
Not only is the weight of the bin kept within the footprint of the machine, this mechanism generates no sudden jolts or lateral movements in the centre of gravity. This is very important to maintain stability when lifting heavy bins.
By contrast, many competing bin tippers use a primitive 'pivot' mechanism. The mass of the bin is swung through a wide arc, greatly increasing the risk of a (potentially lethal) loss of stability.
2. Effective Guarding
Simpro spent many years developing a proprietary process called SafetyMaster™, to ensure that all of our machines have highly effective guarding and isolation systems which comply with all relevant local and international standards, such as AS/NZS4024:2014 and ISO 14120:2015.
This is why the Dumpmaster has a full-cage wire mesh guard with 25mm apertures – specifically chosen to prevent fingers from being able to access moving parts. The Multi-Tip achieves a similar level of safety with a combination of smaller guard panels and a dual-hand control system.
By contrast, many competing bin lifting machines don't have any guarding at all. Open pinch-points and entrapment hazards are common, along with unrestricted access to hydraulic mechanisms and hazardous areas beneath the bin cradle. Never ask your staff to operate unguarded machinery.
3. Efficiency
The unique mechanism of Simpro bin tippers uses very little energy to operate – as little as 18 kilojoules per cycle. This efficiency means our machines can empty more bins with less energy; extending battery life, reducing power bills and minimising environmental impact.
As a useful side-effect, this also means we can offer solar power. The Dumpmaster can empty as much as three tonnes of waste per day powered by a single 0.5m2 panel.
By contrast, competing 'pivot mechanism' bin tippers empty fewer bins per charge, and are usually too inefficient to be powered by a solar panel.
4. Reliability
Simpro has been manufacturing materials handling equipment for a quarter of a century, and today thousands of our machines are in operation all over the world. This experience and scale gives us unique insights into why components fail and how to make them last.
We feed these insights back into our continuous improvement program, so our products today are not only the most reliable and durable we have ever made – they are almost certainly more reliable and durable than any competing products. And don't just take our word for it:
I would highly recommend the Simpro Dumpmaster. We have had our model on site for over 10 years fully exposed to the elements. It works first time, every time, with very little servicing required. Extremely reliable, robust, efficient, adaptable and simple to use, we couldn't ask for better quality in machinery.

Dominic North - Manager - Victor Chang Cardiac Research Institute
5. Design
Okay, this is subjective. But as the saying goes, if it looks right, it usually is right. Decide for yourself...