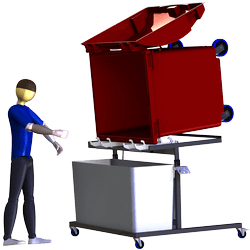 Introducing the BinBlaster™
It almost goes without saying that bins need to be cleaned regularly – whether they are used for waste, food ingredients, or any other product. Not only does a clean bin look better, it is also more hygienic and less likely to have an unpleasant odour.
It also goes without saying that the company that leads the world in smart bin-tipping solutions should also offer systems for cleaning them.
So in typical Simpro style, the design team worked through the issues and factors, and came up with a solution that ticks all the boxes: the BinBlaster™.
The power of the water supply is harnessed for lifting the bin, eliminating the need for a hydraulic powerpack.
In many cases – as long as the water supply has a fairly high pressure – there is no need for a waterblaster either, hence no need for a power supply.
The entire bin-tipper is made from grade 304 stainless-steel, so it will look just as smart in 5 years as it does the day it is delivered.
One model can handle all EN840 standard wheelie bins from 80L up to 1100L, without adjustment
Two of the 2-wheeled bins can be tipped and washed together, to save time.
The water used to wash the inside of the bins can be collected, filtered and recycled if a pressure washer is used.
The BinBlaster is stable and can simply sit on the ground, or be fitted with castors to enable it to be moved around.
We are making the BinBlaster available to our global agent network in 2018. Watch the intro video below, or go here to learn more.