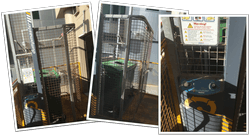 How long will a Simpro bin-tipper last?
I really need a bin-tipper. But it will have to be used outdoors, and I'm worried about corrosion. How long will it last?
A very long time. Simpro has been manufacturing bin-tippers for three decades, mostly for use outdoors, in the rough-and-tumble waste industry, under the fierce Australasian sun. And most of these machines are still in use.
Of course, you don't have to take our word for it. We recently caught up with a customer who purchased a machine in 2008: Dominic North, from the Victor Chang Cardiac Research Institute in Sydney. Dominic sent us through some photos through of his Dumpmaster after a decade of daily use:
As you can see the machine is still fully operational, suffering nothing worse than faded decals and a little rust. Here's what Dominic had to say:
So, how long will a Simpro bin-tipper last? It's hard to say. They haven't been in production long enough to find out!