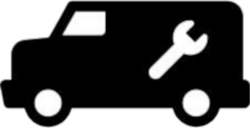 Let us take care of you with SimproCare
It's the second thing on everyone's mind when making CAPEX purchases; it's one of the trickiest elements of a sale; and how your company handles it helps define your success.
Service, support, and preventative maintenance of capital equipment is something that we at Simpro understand. We have been manufacturing and supporting our equipment for over 30 years, and provide backup, parts, and expert advice for more than 5,000 machines around the world.
That's why we've decided to release SimproCare, the official package for total peace of mind concerning service, support, spares and preventative maintenance for your Simpro equipment.
SimproCare removes the burden of preventative maintenance from the customer, making Simpro responsible for equipment upkeep and operational continuity.
With each SimproCare purchase, Simpro provides a range of common wear replacement parts, a three-year warranty, and (depending on your product and region) up to two preventative maintenance and service checks each year. Any one of our team will be glad to discuss the details of your application, just ask next time you are in touch.
After 30 years, we know how to take care of you.