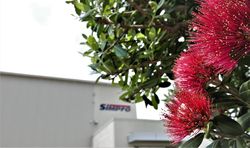 A valediction for 2017
It will soon be December 2017, and the year seems to have gone by in a flash. They say time passes quickly when you're having fun, which maybe explains it since it's been a record year for us at Simpro.
Anyway, there's a couple of things we'd like to mention.
Firstly, Merry Christmas and a Happy New Year to all our customers, suppliers and other stakeholders. Our success is built upon a network of highly professional companies and very decent people. Thank you.
Secondly, a small reminder regarding freight over the holiday period. During December and early January, freight companies are extremely busy and prioritise perishables over durable goods such as machinery. This can cause unpredictable delays to our shipping schedule, and most large orders placed in December will not be delivered until the New Year. Please bear this in mind.
Finally, we want to give our staff a well-earned break this Christmas, so we're closing at midday on 21 December 2017. After charging our batteries under the sun of a Kiwi summer, we will reopen on 8 January 2018 – refreshed, recharged and ready for more #realinnovation...
Take care and drive safe.
The team at Simpro.