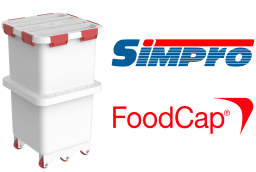 Simpro and FoodCap announce strategic partnership
New Zealand companies partner to help food processors reduce detrimental economic and environmental impacts
FoodCap International Ltd and Simpro Handling Equipment Ltd have announced a strategic partnership to expand the local reach of FoodCap's unique bulk material handling system.
By combining FoodCap's capsule technology with Simpro's established relationships across the New Zealand food processing industry, the new partnership will introduce the innovative handling solution to a wider local audience and help reduce the economic and environmental impact of feeding people.
FoodCap was established more than a decade ago with the vision of developing a better system for handling and storing fresh and chilled meat, taking cost and waste out of the supply chain.
However, the company realised its technology could be repurposed to solve materials handling issues across the wider processed food industry, which is where Simpro's expertise comes in.
The Auckland-based handling equipment original equipment manufacturer (OEM) has been supplying solutions to New Zealand food processors since 1986 and has established relationships across the industry.
FoodCap CEO Julian Beavis said the partnership made good business sense.
Simpro can focus on selling capsules and handling equipment to New Zealand domestic food companies, which is their specialty, and FoodCap can focus on offshore expansion and the R and D of specialised solutions that reduce the economic and environmental impact of feeding people.

Julian Beavis - CEO - FoodCap International Ltd
For Simpro, who were originally contracted by FoodCap to develop specialised handling equipment for the capsules, the partnership closes the loop on their food-grade product offering.
Simpro General Manager, Daniel Currie said many domestic food processors still use concerning practices for hygiene-critical handling, such as wheelie bins, and others use European-standard bins or Eurobins.
"The FoodCap capsules offer advantages over both – both in terms of ergonomics and food safety and cost – and the whole system was developed in New Zealand by our two companies."
Currie said since both companies have received support from Callaghan Innovation, the FoodCap system could be considered something of a national champion in the field of hygiene-critical materials handling; a field traditionally dominated by large European companies.
We certainly think it's a solution that ticks all the boxes, in a way that no overseas products do. There's nothing else like it out there.

Daniel Currie - General Manager - Simpro Handling Equipment Ltd
About FoodCap
FoodCap is a New Zealand-based technology company offering range of services and technologies to food processors and retailers. FoodCap is the business of helping companies improve their meat and food ingredient handling, storage and transfer to optimise product quality, security, safety, shelf life and cost.

The FoodCap Food Handling system is a reusable, chilled handling system for buffering, storage, and transfer of food ingredients prior to manufacturing. Additionally, it is used for storage, ageing, and transport of red and white meat, either within production facilities or between primary and secondary processing.
The FoodCap technology is scientifically validated and commercially proven. For more information see https://foodcap.com.
About Simpro
Simpro is a New Zealand-based family company which has been manufacturing specialised materials handling equipment for over three decades. The company has grown to become a leading supplier of handling products for niche applications, such as bin lifters and tippers, pallet stackers, crate trucks and goods lifts.
Simpro products play an essential role for thousands of companies around the world, in industries as diverse as waste management, food processing, resource extraction and pharmaceutical manufacturing. They are available through a global network of dealers and service agents and are backed by a sophisticated in-house design and fabrication capability. For more information see https://simpro.world/.