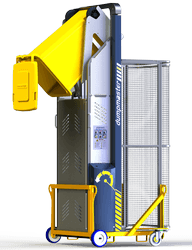 We got endorsed by Iron Man!
Yes, you read that right.
We introduced the super-heavy-duty Dumpmaster 'Ironman Kit' last week, and somehow, via Facebook, it came to the attention of Tony Stark himself. We received the following comment:
From the desk of Tony Stark:

While this may not be something we would produce here at Stark Industries, it is still a very cool product that we might have a use for. Keep up the great work Simpro and keep us informed of new products in the future.

Tony Stark - CEO and Founder/Emeritus President - Stark Industries
Click here to see for yourself.
Now, Iron Man may not be exactly real, but he definitely has good taste in heavy-duty machinery. And the Dumpmaster Ironman Kit is very real! Enquire with Simpro now.