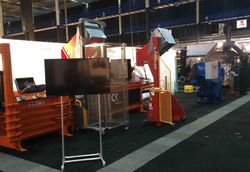 Simpro bin tippers at Recycling 2016 in Holland
Simpro bin lifting and tipping machinery was on display last week at Recycling 2016, an annual trade fair held in the South Holland town of Gorinchem. The expo was attended by representatives of the recycling and waste management industry from around Western Europe, as well as regulators and government bodies.
Our Dutch agents Van Randwijk had both a Dumpmaster and a Multi-Tip on their stand, and reported a high level of interest in these unique bin lifting and tipping machines.
It went great! We found many interested in the Simpro products.
Thanks, Wouter - het ziet er goed uit! We look forward to our products driving safety and productivity in European workplaces.