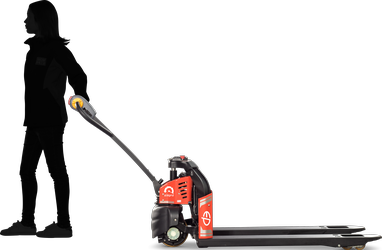 Prevent pain by powering up your pallet-handling
In 2016, old-school pallet jacks were a familiar sight at supermarkets across the UK, hauling product across loading docks and into display areas.

Yet today, they've almost vanished. In their place are powered pallet trucks, often with removable Lithium-ion battery-packs, and branded EP .

It's a change that Simpro Handling Equipment Ltd, an Auckland-based distributor of EP Equipment, would like to replicate here in New Zealand.
Simpro has identified two drivers behind the rapid change in pallet-handling practise in the UK retail industry, and thinks both are headed for Kiwi shores.
Firstly, an increasing awareness of musculoskeletal disorders as the next frontier of workplace health and safety. As workplaces grow more sophisticated, the focus of H&S practitioners tends to move from relatively obvious hazards – falling off loading docks, for instance - onto more obscure and complex ones. While back pain is not an obscure problem, its causal relationship with repetitive manual tasks – like operating hand pallet jacks – is certainly complex, and has been overlooked in the past.
"The evolution in safety focus may be supported by legislation, such as the Health and Safety at Work Act 2015, but we think it is really best understood as a function of economic development" says Simpro Sales Manager, Benji Simmons. "As New Zealand is gradually regaining its place in the top tier of the OECD, we expect to see global best practise replicated here, including a shift to all-electric trucks."
A second driver of change, Simpro believes, is the plummeting cost of fast-charging, high-capacity Lithium-ion batteries, and their rapid integration into all manner of products by upstart companies which blur the traditional boundary between tech and manufacturing.
"EP Equipment has less technological inertia than established manufacturers, and they've adapted to the potential of Lithium-ion batteries very quickly" says Simmons. "It's a change we're used to seeing in consumer products - DJI drones, Tesla cars - and it's coming to the workplace too."
EP Equipment does fit the mould. Based in Hangzhou, the nimble privately-held manufacturer was founded in 1993 by entrepreneur John He, and is small enough to have avoided government interference, but big enough to churn out smart products in serious volume. The numbers speak for themselves: last year EP had over 2000 employees, sold over 100,000 electric trucks, grew revenue by 20%, and officially became the world's fastest-growing warehouse truck manufacturer. EP has also adapted to globalisation – purchasing Big Joe Forklifts of the USA and accepting investment from German-based Kion Group – and invested in details such as user manuals written in clear, grammatically-correct English.
EP Equipment has less technological inertia than established manufacturers, and they've adapted to the potential of Lithium-ion batteries very quickly.

Benji Simmons - Global Sales Manager - Simpro Handling Equipment Ltd
If the combination of these two factors – an increasing focus on workplace ergonomics, and cheap Lithium-ion batteries – makes for change poised to happen, Simpro thinks that EP's latest product could be the spark. The EPT12-EZ-PRO powered pallet truck is the first to combine four features important in a New Zealand context: CHEP 4-way forks, plug&play Lithium-ion battery, modular construction, and an affordable price-point. "It solves so many problems," says Simmons, "and despite a higher initial outlay, our analysis of injury statistics in pallet-handling suggests that an EPT12-EZ represents overall about a 10% annualised ROI improvement over an equivalent hand truck."
"We've done our research, we believe this is a shift that needs to happen here in New Zealand, and we're investing to make sure it does."
The EPT12-EZ is available for purchase from Simpro's webshop shop.simpro.world , or by calling 0800 734 744 .