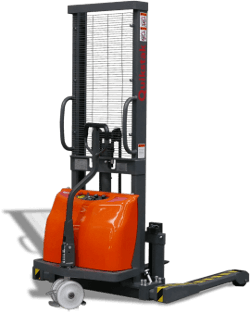 Introducing the Quikstak S-Series
The

Quikstak

'smart-stacker' from Simpro has been essential equipment for hundreds of businesses across Australia and New Zealand since 1994. We have taken the

Quikstak

, and re-imagined it for 2016.
Our new Quikstak® S-Series range has everything that made the original Quikstak "smart-stacker" popular. The 'magic-eye' infrared load height adjustment. The huge weight capacity. The reliable electro-hydraulic mechanism.
They also have a lot more—we have worked with our international partners to integrate smart 21st century technology into the Quikstak. For instance, a self-drive unit is now fitted as standard. The braking system now includes a Kinetic Energy Recovery System (KERS) to extend battery life. Both load capacity and lift height have been dramatically improved, and the steering tiller features ergonomic switches that allow raise/lower operations while on the move.
With the Quikstak S-Series, we haven't just introduced lot of new technology, we have also extended the product range. Our new manual and electric pallet-trucks are designed to complement the stackers, allowing Simpro to offer a complete pallet-handling solution for your warehouse, dispatch or manufacturing operation.
And the story isn't over yet. We are working to extend the S-Series range, and a number of new product are in the pipeline which will be introduced over the coming months and years.
If you are in the market for a new pallet-handling solution — or if you are one of our loyal customers, and your stackers are beginning to show the signs of decades of hard work — please check out our website. The Quikstak S-Series is the only range of pallet stackers on the market today to combine 21st century industrial technology with Simpro's trusted heritage of innovation and reliability.