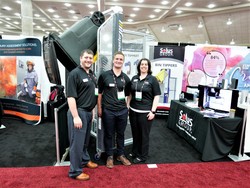 Boots on the ground at NFMT 2018
Global Sales Manager Benjy Simmons has been in Maryland, USA this week supporting Simpro's distributor Solus Group at the NFMT Baltimore Facilities Management Expo. With over 6000 attendees, NFMT Baltimore continues to be the yearly summit for professionals from all facilities management sectors across North America.
Benjy says that there has been strong interest from education and hospitality professionals, as well as some solid discussions with grounds managers and corrections facilities.
Despite Baltimore's biggest snow-storm this year hitting us on Wednesday, foot-traffic was still enough to keep us busy, and reactions have been very very positive

Benjy Simmons - Global Sales Manager - Simpro Handling Equipment Ltd
Keep an eye out for Solus and Simpro at NFMT next year – we look forward to seeing you there!