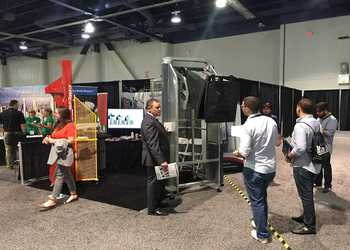 Simpro bin tippers at Waste360 Expo in Vegas
Chris Tasker, Simpro Australia Sales Manager, is at the Waste360 expo in Las Vegas this week supporting our distributor Solus Group presenting our products to the US market. With nearly 600 exhibitors, Waste360 is the largest waste industry show in North America.
Chris says that despite the temperatures in the Nevada desert topping out at over 40° C, the feedback has been overwhelmingly positive.
Interest has been very strong and consistent for our complete range of bin tipping solutions from a variety of sectors such as government, education, manufacturing, materials handling and the waste industry.

The common response to seeing the bin tippers in operation has been, this is exactly what our clients or staff are wanting to increase productivity, improve efficiencies and assist in reducing costs across the board.
From the perspective of a stormy winter Down Under, Chris looks like he's enjoying himself. Being a native of Brisbane, it probably feels just like home!