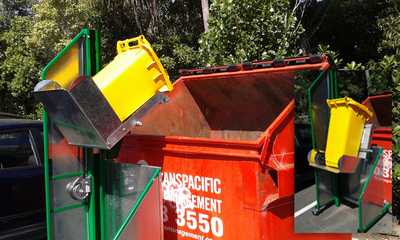 Improve the way you move!
Recently a care home in Wellington investigated ways to improve the handling of waste to help them eliminate the risk of back and shoulder injuries to staff.
Like many aged care providers, the home has a diverse workforce, with some taller staff and some shorter staff. Not everyone could lift wheelie bins full of rubbish.
The home purchased an Ezi-MT bin tipper which has been a great success. The smaller staff members particularly appreciate the machine, as they had been unable to empty wheelie bins without unacceptable difficulty. One staff member had suffered a rotator cuff injury, which prevented her from doing any heavy lifting - but she can now empty large bins of waste as well as any other member of staff.
The home also learned that not all wheelie bins are created equal. The Ezi-MT locks onto the wheels of the bin while tipping, which means the wheels need to 'project' slightly from the body of the bin to provide a secure hold. This is a problem easily solved by using SULO wheelie bins from Simpro. Most bins in the market would be fine, but as the team learned, it does pay to check!