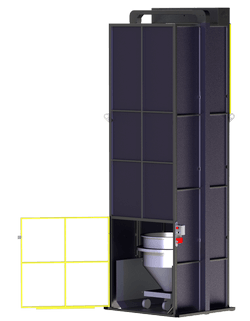 Simpro Hylifta helps out at Clariant New Zealand
When specialist chemicals company Clariant New Zealand needed a means of transferring product batches weighing up to 500kg between floors at their Albany facility, they chose a Hylifta Materials Handling Elevator from Simpro Handling Equipment.
The custom-engineered high-capacity elevator was commissioned on 9 May and includes a suite of features to ensure the highest levels of safety and reliability:
Control stations at both levels, with dual emergency stop buttons
Category 3 Electrical Monitoring System
Electrical interlock doors to prevent human access unless lift is in a secure state.
Overload, pressure-relief and hose-burst safety features to prevent damage and lock lift in case of malfunction
The Hylifta took less than a day to install, yet like all Simpro products, will give Clariant many years of reliable service.
If your production workflow includes staff using forklifts – or stairs – to transfer product across levels, please get in touch with us. In an era of ever-tightening safety regulations, there is a better way!
From design phase to installation the process was made pretty simple by the guys at Simpro. Even a problem with the PLC in the first weeks of use was sorted out over the phone with a few photographs which I thought pretty professional.

The elevator has proved a huge asset to our process.

Matthew De Nobrega - Maintenance Engineer - Clariant (New Zealand) Ltd